By: Vincent Pensabene
Carmelo Anthony has been labeled many things in his NBA career but one thing he has not been called is NBA Champion. It hasn't been clear if he is wanting to win a championship or make the most money he can and play in a location that he chooses (which either choice being acceptable). Now that Anthony is a free agent in year 16, he can choose to go wherever he wants and ultimately decide how he wants to end his career. If you are a fan of a contending team in the NBA let me tell you why your team should avoid Carmelo Anthony at all cost.
In Carmelo's first 15 NBA seasons, he has missed the playoffs four years in the Eastern Conference. In three of those seasons (2013, 2014, 2016) all he had to do was play .500 ball and two of the three seasons he needed 39 wins to secure the 8th seed. The argument people will try to throw is 'the Knicks were bad' which is fair, but the NBA is a star-driven league where the star players control the outcomes of games.
In the other 11 seasons Melo has been in the NBA, he lost in the first round NINE times. Carmelo has a postseason record of 21-51 in games he played in (29.6 winning percentage). To put that into perspective, both the Atlanta Hawks and Dallas Mavericks in the 2017-2018 season had a winning percentage of .293 and were bottom dwellers of their respective conferences.
Carmelo Anthony decided to gut the New York Knicks the season before he became an unrestricted free agent and could sign with the team without having to give up an impactful group of players that could have helped Anthony in the next season. The Knicks gave up Wilson Chandler, Raymond Felton, Danilo Gallinari, Timofey Mozgov, and the draft picks that turned out to be Doug McDermott, Quincy Miller, and Romero Osby. That is a big loss for a franchise that set the Knicks back almost a decade.
Carmelo Anthony isn't a great teammate either. Look at Jeremy Lin for an example. In case you aren't a NBA fan let me break it down for you. There was about a two week stretch where Lin was playing at a NBA MVP-caliber level while Anthony was not. Anthony knew he had to take control of the "issue" of having a good teammate and one source said "Lin was getting what Carmelo was promised and Carmelo thought [coach] D'Antoni was going to favor Jeremy, so he had to get D'Antoni out of there." How dare a teammate take some shine from Carmelo "No Rings" Anthony.
Speaking of rings, he is the only player in the top 5 of the 2003 draft class to not win a NBA Championship (LeBron James, Darko Milicic, Chris Bosh, Dwayne Wade). He does have 3 Olympic Gold Medals as a member of Team USA in an Olympic sport where USA blows teams out by 50 on a consistent basis, but tell me again how that makes Carmelo Anthony a winner when the Monstars are playing against Jackie Moon and the Flint Tropics. Oh, did I mention he said he would be okay with not winning a title since he won the Olympic Gold three times?
If the NBA were to decide they were going to have a fantasy draft and each team would create a completely new roster, Carmelo Anthony wouldn't be picked in the top 125 players. He can't win and refuses to be the sixth man for a team, which is where he will thrive, and tells the media that he is a starter. This is not good for a marginal player at this juncture of his career to be doing. He probably lost a few phone calls from teams since he won't do so.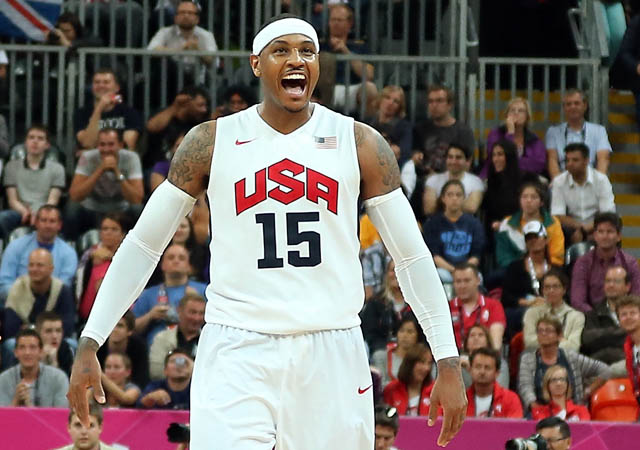 Carmelo hasn't taken care of his body and it shown last season where he averaged 16 points, 6 rebounds, and an assist. Player Efficiency Rating (PER) measures how efficient a player is with 15 being average. Last season, Anthony had a 12.7 PER which is worse than average. This is the guy who won't go on the bench because of pride. The reports are he is going to sign with Houston and join Chris Paul and James Harden and go back with coach D'Antoni, who he got fired from the Knicks. Anthony needs to accept the players in the league have just passed him by and he isn't a main factor on a team. You lose the explosiveness and jumpshot when you are not in shape and getting older and that has been Melo's game for most of his career.
This is the biggest fall off in the NBA since Kobe Bryant, who suffered over a dozen injuries in his last few seasons before ending his career. Hoodie Melo is getting prepared to be an all-star at your local YMCA, not in the NBA with the pride he possesses.