Odds provided by Caesars Entertainment Sportsbooks
Patriots -800

To say the AFC East has been pretty one sided would be an understatement of monumental proportions. Since 1996, the Patriots have won it 18 times, compared to Miami's 2, the Jets' 2, the Colts' 1 and the Bills 0. Needless to say, Vegas books believe that this trend will continue. Vegas (Caesars) has New England's odd at 1/8, meaning you will win exactly $1 for every $8 you bet. Not exactly great value or ROI, but some may say "free money is free money"… But let us not forget the one time since 2003, that New England did not win the division crown was when Brady blew a knee in week 1 to the Chiefs that ended his season (F***in Bernard Pollard). Moral is… anything is possible. The Pats lost a few key contributors on offense (Lewis, Amendola, Solder, Cooks) and defense (McClellan, Butler) but they've added some pieces that can come right in and keep this steam engine rolling. Guys like Adrian Clayborn, Jeremy Hill, Sony Michel and Danny Shelton should see significant action this season. Who knows, maybe Cordarrelle Patterson can resurrect his career in Foxborough.
Bills +800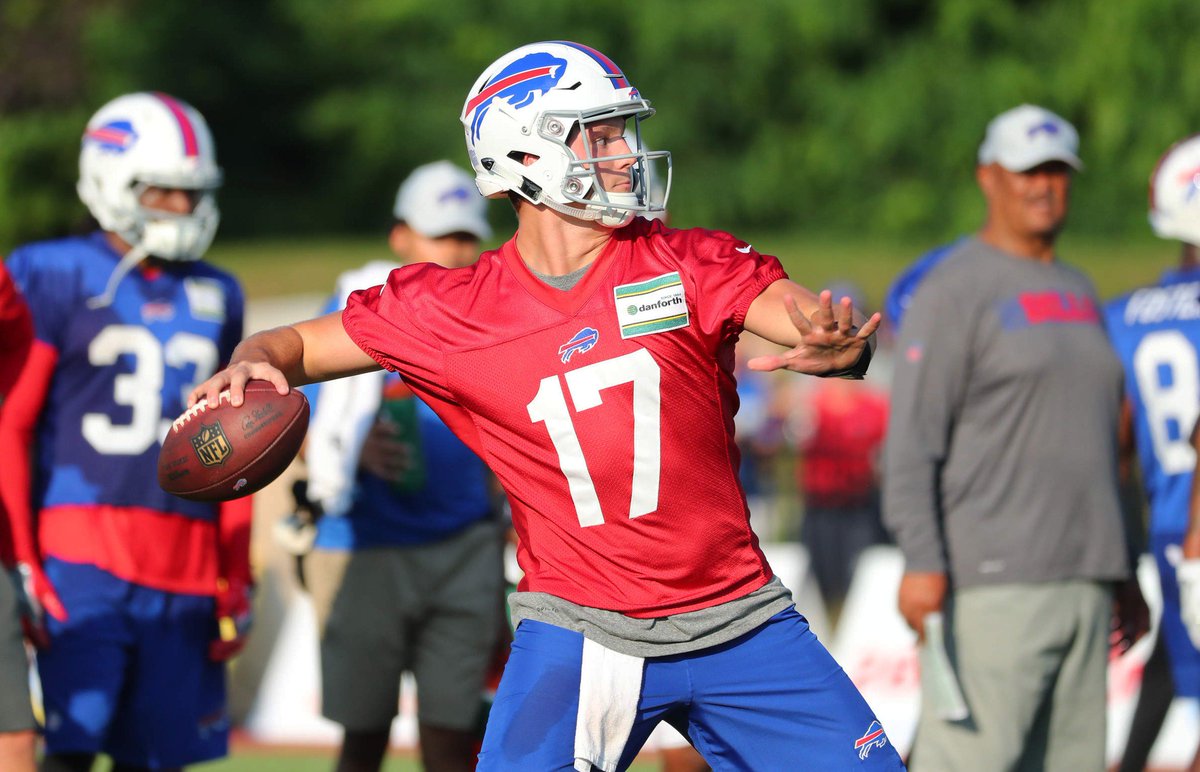 The Bills were the other AFC East team represented in the postseason after an 18 year stretch of watching the playoffs on TV. The jury is split but I think the Bills got better at QB with the signing of A.J. McCarron. They can take their time molding Josh Allen, the team's 1st round draft pick this year. If McCarron is going to succeed, he will need a healthy Kelvin Benjamin to be the #1 guy, something Benjamin has struggled with since his rookie year with Carolina. Benjamin, paired with Zay Jones, could create a nice 1-2 punch. The future of LeSean McCoy is up in the air right now but they did acquire a proven RB in Chris Ivory. I think 10-6 is not absurd to ask of this team given the talent and the schedule. There's good value in the Bills at 8/1 especially if the Pats have any sort of slide back to reality.
Dolphins +800

The Dolphin's biggest move this offseason was bringing Frank Gore home for his swan song. Doesn't say much eh? Although Ryan Tannehill should be back after the Jay Cutler experience produced lackluster results and some egg on the face of Adam Gase. Big holes left by Ndamukong Suh and Mike Pouncey, weren't necessary filled this offseason. To be fair, those are tough players to replace. Minkah Fitzpatrick needs to have an impact from day 1, but don't hold your breath. And the biggest question mark will be replacing Jarvis Landry's 112 catches. Not sure Danny Amendola can hold up long enough to achieve that. Don't hold your breath on this team being any better than 8-8.
Jets +1000

The Jets are a team who would be classified as rebuilding, but they were pretty competitive last season despite their 5-11 record. Josh McCown was re-signed, but Teddy Bridgewater was brought in as well as drafting USC prospect Sam Darnold #3 overall. Matt Forte retiring isn't too big of a loss, and the team picked up Isaiah Crowell and Thomas Rawls, two backs looking for career resurrections. Robby Anderson's legal issues may put his season in limbo to start. And Quincy Enunwa isn't quite 100% off that neck injury. That leaves Jermaine Kearse and Terrelle Pryor. Known names but not necessarily top tier quality and this stage in their careers. The Jets have a pretty quality defense led by Leonard Williams up front and Jamal Adams in the secondary. That unit will keep them in some games this year, much like it did last year. My gut would say start with McCown and see where the season goes. I don't think Darnold should see the field this year but Todd Bowles may not have that kind of time. I see around a 6-10 year for the Jets.
The Pick:
While the Patriots will probably win another AFC crown with ease, the value here is on the Bills at 8/1. The Pats core is aging and that includes the QB and Head Coach. Should the media make a last ditch attempt to derail these Pats, like they do every year, then we could see a 9-7 Pats squad looking up at a 10-6 Bills team.