ODDS PROVIDED BY CAESARS ENTERTAINMENT
STEELERS -300

The Steelers are the belle of the ball in this division, and rightfully so. The have the a top 5 quarterback, a top 2 running back and the #1 wide receiver in the game. But the window for this team is closing fast. It's probably Leveon Bell's last season in black and gold so I look for him to be "interviewing" for teams with his performance on the field this year. Who will pay him $20 million per year? Because it sounds like it won't be the Steelers. Ben Roethlisberger has reported to camp in much better shape than previous years. Maybe I should cut out sugar and carbs too. Fuck that… Raising Cane's chicken tenders are way too good. The offensive line is healthy again and is one of the best in football. The number one question on defense is who will replace Ryan Shazier? Without landing a comparable replacement, Pittsburgh will struggle up the middle again. The schedule is mostly favorable to the Steelers given that the AFC North has much to prove. They should go 4-2 or better there. Outside that they have tough opponents in Kansas City, Atlanta, Carolina, the Chargers and New England but those are all home games. Tough road contests with Jacksonville, Denver and New Orleans will be the defining games for Big Ben and Co.
RAVENS +350

I've heard from many fans that Baltimore is a train wreck, but I believe the Ravens are in pretty good shape, even before Lamar Jackson was drafted in the first round. This team was 9-7 last year and on the doorstep of the postseason. They lost Mike Wallace and Jeremy Maclin but did a good job replacing them with Michael Crabtree and John Brown. They beefed up the tight end spot by selecting Hayden Hurst and Mark Andrews early in the draft. The Ravens defense is pretty good but not elite like most Ravens defenses have been. But that may be enough to compete if Joe Flacco can recapture some of his 2012 self. The schedule lines up favorably for Baltimore in November and December (already played the Steelers twice by then) so if they can get to their bye week with a winning record, they have a decent shot at contending for the division.
BROWNS +700

Everybody's darlings sit at 7/1 this year to win the AFC North. Something they've never done since they re-became the Cleveland Browns. They added a lot of offensive weapons this offseason (Tyrod Taylor, Carlos Hyde, Jarvis Landry, Nick Chubb) so if anything we should see some explosive plays from the Browns offense. But for a team that has been 1-31 over the last two seasons, I'd rather place my paycheck on hell freezing over rather than the Browns winning this division. Their offensive line is atrocious and I can't feel confident in a team that can't block. With that being said, I could see the Browns finding their way into a playoff spot should a few AFC teams disappoint this season and Tyrod overachieves. I wish Vegas could offer me a bet on a team getting more wins than it did in its previous season. I don't care what the juice is. I see four wins minimum on this schedule for Cleveland but they are early in the season. So expect some early season fanfare for the Browns because my guess is they'll be 5-2 or 4-3 heading into their week eight matchup at Pittsburgh. The schedule gets much tougher after that and I don't see too many wins on the back half unless they can catch some teams sleeping on them.
BENGALS +900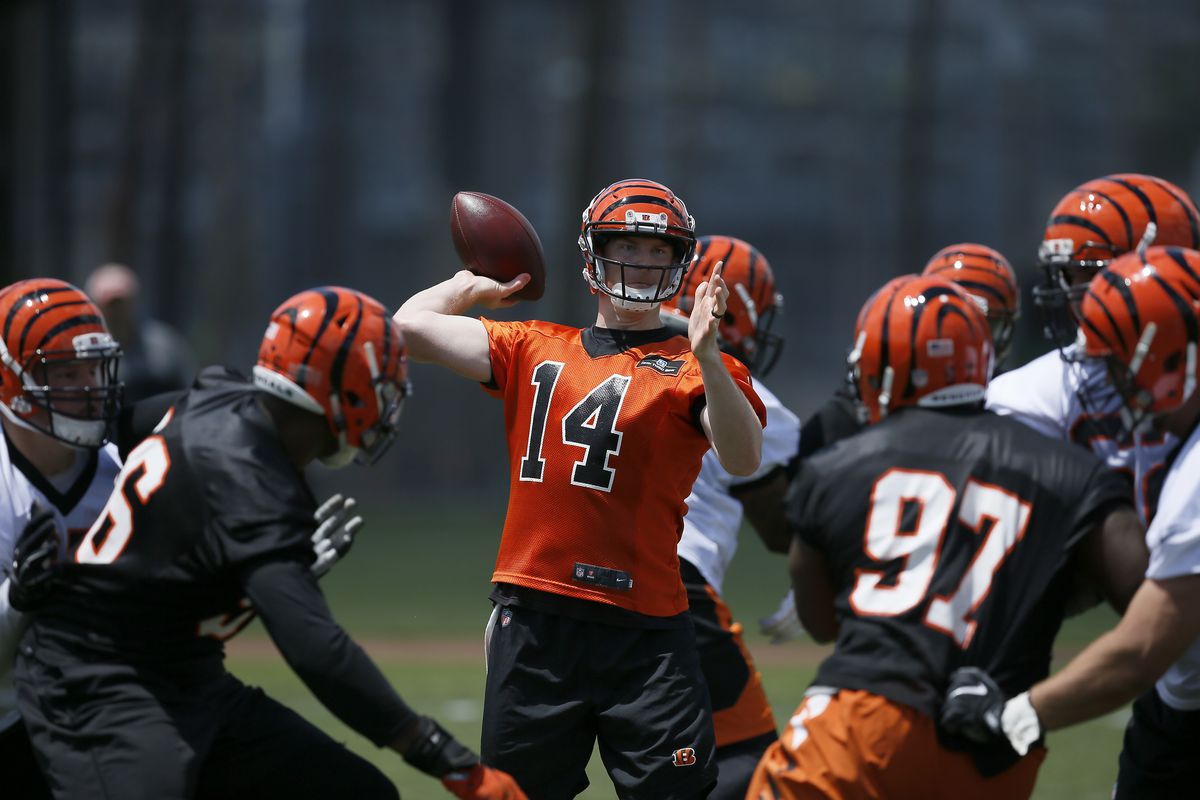 Don't sleep on Marvin Lewis' (still?) Bengals. The fact that they won 7 games last year despite averaging only 18.1 ppg is remarkable. Andy Dalton should be getting some help on that O-Line. They traded for Cordy Glenn and used their first round pick on a center. A.J. Green returns to do A.J. Green things, but for the love of God, can Tyler Eifert ever put together a full season? John Ross may have some impact this year and Joe Mixon is primed to take over lead back role. Giovani Bernard is a nice change of pace when Joe needs a breather. The defense is solid but unspectacular. Vontaze Burfict's suspension would help that cause. Burfict will miss the first four games and the Bengals could be 0-4 to start the season. The schedule is pretty tough especially if they start 0-4, but if Dalton plays like he usually does, this team should finished around 8-8 with a ceiling of 10 wins if some bounces go their way.
THE PICK:
Pittsburgh is the class of the AFC North so they should take down this division with virtually no harm. The other three teams are not as good or bad as they are publically perceived. They can all be playoff contenders but just not division contenders. Steelers get another one. -300 isn't too bad, even when I believe they are more of a lock than New England (-800) this year.