By Tony Johnson
It was an interesting first week for this new Power Five football series.  We missed a few picks but I like some of the spots that we had. Illinois got very unlucky to lose on Friday night getting 28 points and having an outright lead against Penn St in the 3rd quarter.  The Florida/Tennessee game was bludgeoned by early turnovers that allowed scoring early and killed our under bet. Finally, I was surprised how well West Virginia played on defense which allowed them to maintain control of the entire game.  Thankfully this is a new week and it appears that we have some good plays in store for Saturday.
ACC: Virginia Tech at Duke (Virginia Tech +5 at W Hill)
This game pits a battle of backup quarterbacks against each other in what appears to be a defensive battle on paper.  Virginia Tech is coming off a stunning loss on the road at Old Dominion (who the hell scheduled a road game at Old Dominion?!) and lost starting quarterback Josh Jackson to a broken leg too.  Backup Ryan Willis looked like the best quarterback in the spring game and comes in with more arm talent than the aforementioned Jackson. Bud Foster's defense rarely has a showing like the one against ODU last week and I expect them to play with a lot of energy this week in Durham.  On the Duke side, Quentin Harris has struggled filling in for injured QB Daniel Jones. He's completing less than 50% of his passes but has done well enough not to turn the ball over. This opponent will be a much tougher test and he will need to be more efficient throwing the ball. Sometimes it's best to be on the road after a big loss and I'm expecting VT to put it all together in this one.
Big 10: Ohio State at Penn State (Ohio State -3 at Westgate)
It's nice to see the best game on the slate this Saturday make it into the FEPF article this week.  I've talked in past podcasts and articles that Ohio State has the most talented team in the country in my opinion.  Losing Nick Bosa to an injury hurts this argument, but they are still superior to Penn State at nearly every position talent wise.  The one bright spot for Penn State is the continued great play of quarterback Trace McSorley. He may be the best pure passer in college football.  Along with that he's tough, gritty, and finds a way to make plays late in games. Miles Sanders has done an admirable job filling in for the departed Saquon Barkley in the backfield but he lacks that massive burst and big play ability Barkley showed on a weekly basis last year.  I expect OSU's run defense to be stout as usual and continue to score plenty on the other side of the ball. This one may be in hand by the end of the 3rd quarter.
Big 12: West Virginia at Texas Tech (West Virginia -3.5 at W Hill)
We have reached the point in the proceedings where another classic Tony Johnson fade the public game is upon us.  Hooray! This game opened in some places at Texas Tech -5 and has moved all the way down to -3.5. Everyone watched Texas Tech dismantle Oklahoma State on the road last week and the expectation is that now they're at home and ready to do it again.  I acknowledge that Tech has turned a corner defensively. They're also a more dynamic offense with an established running game compared to years past. The issue to me is that this week's opponent is of a higher caliber than Oklahoma State. WVU comes in firing on all cylinders offensively.  There are now three receivers, with the recent emergence of Marcus Simms, that are a threat to score anytime they catch the ball. A senior laden offensive line has allowed QB Grier time to throw in every game they have played so far. WVU has a fast and fierce linebacking group that is tremendously underrated.  While I still expect Tech to score some points, I can't fathom their defense allowing less than 40 points in this game. If WVU is scoring 40 then they are going to cover this one.
Pac 12: Oregon State at Arizona State (Oregon State +22 at W Hill)
There isn't much to evaluate here.  This is a simple case of a conference game where the visiting team is getting far too many points.  Oregon State has looked proficient at times offensively this year. They have navigated through some injuries and are much healthier this week heading south to Tempe.  In Tempe, Herman Edwards was abruptly proclaimed the savior after beating Michigan State in an odd late night contest back in week two. He's followed this up with two close losses to San Diego State and Washington.  It's a team laden with talent but no real identity on either side of the ball. Many believe they have the most talented wide receiver in the Power Five in N'Keal Harry but he has disappeared in long stretches of games this year.  This has forced ASU to rely heavily on the run game which is not a good recipe for scoring a lot of points in the Pac 12. I expect Oregon State to hang around in this game and stay within a couple scores by the end.
SEC: Arkansas at Texas A&M (Under 61 at Stations)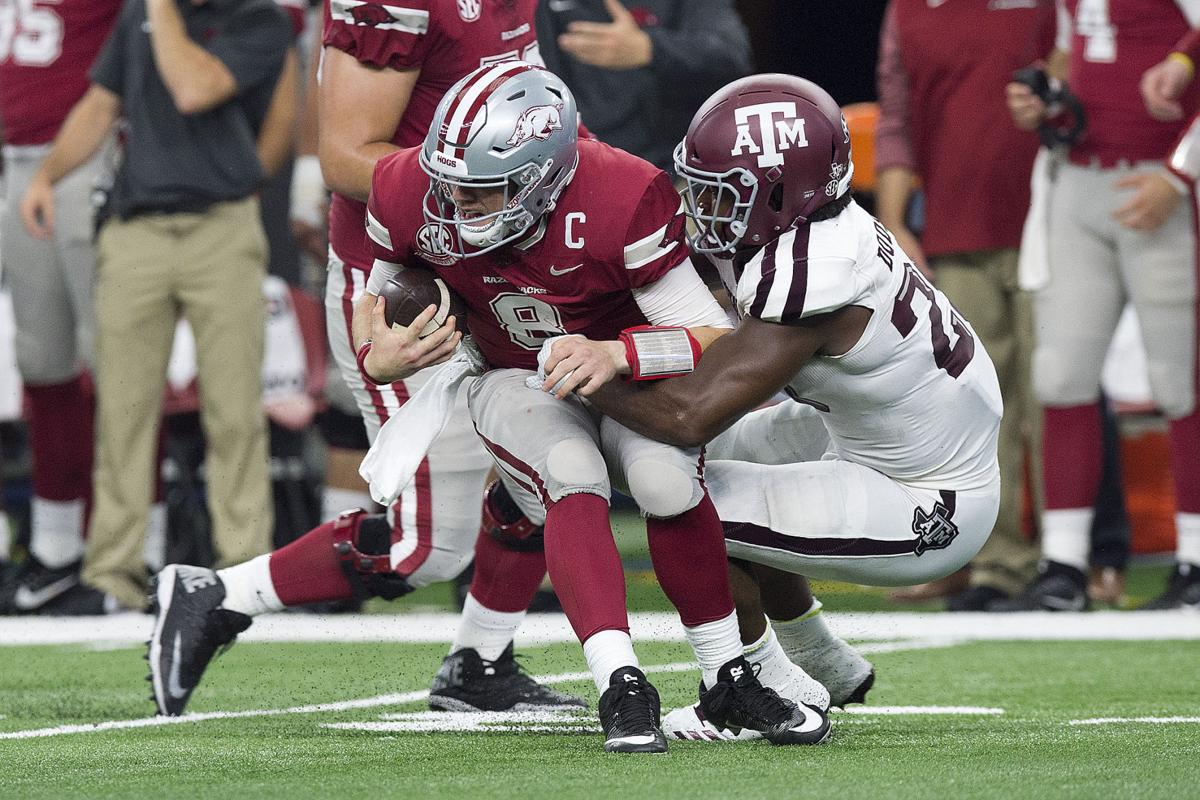 Here we go again.  Another SEC under. Thankfully in this one we have some more points to work with.  Arkansas has been an unbearable train wreck so far this season culminating in a blow out by North Texas at home.  While that was certainly the low point of the season, I felt they were much better last week at Auburn and actually hung in the game for a while.  They have been pretty solid against the run and that will be required to keep Texas A&M at bay this week. On the flip side, Texas A&M is revived under new coach Jimbo Fisher and he's getting the most out of Kellen Mond under center.  He's a true dual threat quarterback with a very strong offensive line in front of him. The expectation here is that A&M will control this game but not be able to put up a ton of points in the process. There's a threat of rain throughout the day which will further slow offenses down.
Those are the five picks for this week.  Let's hope it all goes well this Saturday.
Results
ACC 1-0
Big 10 0-1
Big 12 0-1
Pac 12 1-0
SEC 0-1
Overall 2-3